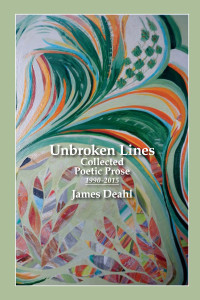 Here is the definitive book of prose-poems, destined to be a classic of the genre on every reference shelf. A new adventure in the evolving presentation of Canadian poetry, a welcome innovation of compact vision, allowing many threads of existence to wind together on a brief, powerful page. The lyricism, the heart-tug of common human experience, is strongly present, just as the emotional highs we have come to expect of great poetry.
James Deahl's prose-poem form allows the freedom of disparate experiences to be gathered with meaningful connection into the paragraphs poetically linked. The form is not limited to a single insight, but has the sweeping vibrancy to allow geography, time, season, and circumstance to flow together, like a stony riverbed, ever changing, ever the same, as we imprint personal events onto the backdrop. A story unfolds and surprises inside each prose-poem here, enhanced by natural setting, a history straddling the tides of our memories and experiences in cities and towns that have watchfully witnessed our arrivals and departures.
 Unbroken Lines heralds a welcome new experience in poetic expression, leaves you hungry for more. The introductory poem, "Damp Stones," encapsulates the hammer power of compact lines, shadowing myth, beauty, fear, desire, old yearnings caught in knots of the woods in all our subconscious minds. Deahl's poem "The Meadow" expresses these revelations searingly: "only the realm of indestructible forms remains, a realm outside the tarnished world of matter, like a meadow of endless spring living in the imagination of a child."
James Deahl has a very special gift, it marks him as one of our great contemporaries: he can impart the geography he has absorbed into his poetic persona, make it places that resonate with the joys and sorrows of those who lived in those places, leaving them mute testimony to change and often decay, a part of our bones. Here the stalwart Yankee beginnings, his travels to Europe, old DNA touchstones, the wilds of Canada that hold and transfix. The prose-poem is a perfect vehicle for this complex painting.
I anticipate that Unbroken Lines will herald a freer form of lyrical expression for coming generations of Canadian writers.
Katherine L. Gordan
A review and interview with James Deahl…
Read a sample from Unbroken Lines…
ISBN 978-1-929878-60-4
150 pages, 6 X 9 inches, Trade Paper
$20 + Shipping
For orders by check/money orders, please make out to Lummox Productions in one of the following amounts: USA = $26 (shipping included); WORLD = $42. Send to Lummox Press at 3127 E. 5th St. Long Beach, CA 90814
For orders via PayPal (credit/debit cards), Please use the appropriate ORDERING BUTTON below.
USA
WORLD