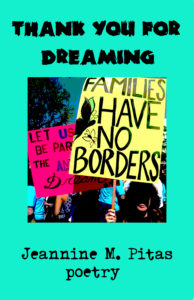 These poems are my grateful response to those who dream. To my own ancestors and family members, without whom I would not be alive to write these words. To the many women who, despite terrible circumstances, have refused to be silenced. To all those people who acknowledge the truth that political borders are nothing but imaginary lines drawn on a map. To those who feed the hungry, shelter the homeless, and comfort the afflicted. Thank you so much. Now, more than ever, this world is needful of your compassion and hope. — Jeannine Pitas
An excerpt from the introduction to Thank You For Dreaming
In this powerful collection of poems, Jeannine Pitas lays bare the wounds of our time—the fractures in our understanding and compassion, the heartache of loneliness, the dissonance between our instincts and actions, the general chaos of our technologically advanced, spiritually degraded societies. In an effort to treat those wounds, thank you for dreaming stands in defiance of boundaries and unnecessary demarcations of difference; whether it is "
aging teachers, early-morning office cleaners, executives sitting alone on a million dollars," Frida Kahlo, Athena or God her/himself, the speaker of these poems reaches out in empathy and in love.

These are poems in pursuit of connection, that seek to bridge the distance between the past and the present, between knowing and mystery, between the secular and the sacred. Pitas traverses the internal worlds of the soul and the external world of politics, environment, and technology, and brings the two spheres into dialogue with each other… 

These are poems that urge us to give up the preconceived notions that hold us hostage in our own ignorance, wisely pointing out the limitations of such living:
until I cross the river
naked
on a raft made of my own clothes
what can I say I know
(the line)
They invite us again and again to participate in a radical reaching toward those who are different, disenfranchised, and dismissed, and show us how in so doing, we are engaging in our own healing. They give us new commandments through which we can live our most fruitful and fulfilling lives.
– Lauren K. Alleyne
,
author of
Difficult Fruit.
For our friends in and around the Dubuque area, Jeannine will be reading at River Lights Bookstore on April 13th. Visit HERE for details.
Read samples here.
ISBN 9780998458083
CHAPBOOK – 58 pages
$12 + S&H
To order online, use the appropriate button below: E-copy ($3); Print copy – USA ($16 – includes S&H); Print copy – WORLD ($27 – includes S&H).
To order via mail, make the check out to Lummox Productions ($16 USA or $27 WORLD) and mail it to Lummox c/o 3127 E. 6th St. Long Beach, CA 90814.
E-COPY (only available on-line)
USA
WORLD