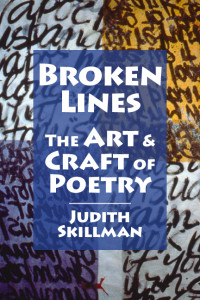 "In The Broken Lines, Judith Skillman distills the wisdom gained from her long successful career as a poet into a succinct [number of] pages that are remarkable for their liveliness and enthusiasm as well as for their accessibility. Aspiring poets should find the practical advice she offers not only helpful but inspiring.
—Stephen Meats, Poetry Editor, The Midwest Quarterly."
"Another highlight is Judith Skillman's [chapter] "Revising Your Poetry Manuscript for Theme." Skillman's advice and exercises will be helpful to poets wondering how to arrange disparate poems into a coherent manuscript for submission to a first book contest or publisher."
— excerpted from RATTLE Magazine's review of Women on Poetry
The goal of this book is to enable poets at all stages of development to move from their current stage or plateau to the next level in cultivating a unique voice and poetic music. This book encourages the student of poetry to entertain a kind of Zen consciousness, a "Beginner's Mind"—for that is the only way to continue serenely in the business of writing poems. The work is cognizant of the fact that most often, if you ask a person why they write poetry, the answer will be "Because I have no choice."
This text can be used by a poet on his or her own, or it can become a tool in the classroom. Broken Lines contains chapters on theory and practice. Whether one is a beginning writer, has been writing for years and never taken a class, or has published work in journal and/or book form, Broken Lines includes content to propel the writing life forward.
Judith Skillman, author of Broken Lines…
Broken Lines Sampler
190 pages; 6 X 9 sized Trade Paperback
ISBN 978-1929878451
Retail: $19.99
!