Lummox & Lummox 6 Readings 2017 – 2018
Out of State Readings are marked in

red
Should you find yourself out and about looking for something to do, check the list below and see if one of these locations is near you. If so, avail yourself to some of the area's best poets. Copies of Lummox 6 will be on sale at all events!
More readings to follow…
RD makes his pitch; "Please buy this book!"
L  6 designates Lummox Poetry Anthology #6 readings
Oct. 28 – VENICE L 6
Beyond Baroque (681 Venice Blvd. Venice, CA) 4 – 6 pm

Readers:
Lynne Bronstein, Calokie, Don Campbell, Micah Card, Mitch Cohen, Sharyl Collin, Bill Craychee, Mark Evans, Gil Hagen-Hill, Bill Gainer, William Scott Galasso, Marie Lecrivain, Mike Meloan, Linda Neal, John Pappas, Lorine Parks, Kevin Ridgeway, Linda Singer, Paul Suntup, Maja Trochimczyk, Vachine & Raindog, your host…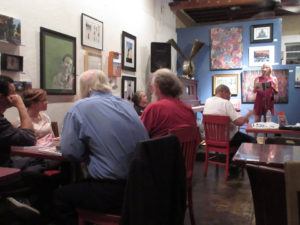 Viento y Agua Reading 2016

Kevin Ridgeway and 

Linda Singer will be reading.
Some of the Canadian poets from 2016 (J. Deahl holding L5 on the right).
Some of the readers at the 2017 Beyond Baroque reading (below).
GO TO L 6 ORDERING PAGE