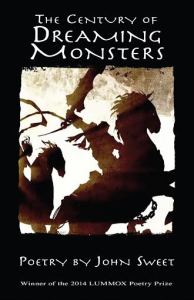 The Century of Dreaming Monsters by John Sweet
John Sweet of Endicott, New York is the winner of the first Lummox Poetry Prize – 2014. His poem, Hoarfrost Soliloquy, caught the eye of Judge RD Armstrong (while sifting through entries for LUMMOX 3 – A Poetry Anthology.  Lummox Press congratulates John and the second and third place winners, William Taylor, Jr and Cristina Foskey, for their excellent writing skills.
John received 50 copies of this chapbook as part of the prize. He also received a cash award of $200.
For a closer look at The Century of Dreaming Monsters go to ISSUU
The Century of Dreaming Monsters by John Sweet
ISBN 978-1-929878-75-8
60 pgs; 5.5 X 8.5 inches; $12 retail
To order John's book, if you are in the USA, use the PayPal buttons below. If you are outside the US please use the buttons marked WORLD. All shipping and handling has been factored into the price.
USA
WORLD
If you prefer to write a check, please make it out for $15 (USA), to Lummox Productions and send to Lummox Press, PO Box 5301 San Pedro, CA 90733. For those of you outside the US, please make your cheque out for $22 USD and send to the same address. For multiple orders contact me.