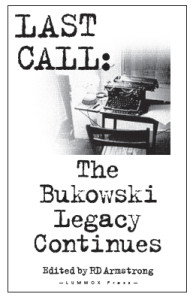 Charles Henry Bukowski, Hank to his friends, was born in Andernach Germany in 1920. He died in 1994, at the age of 73. Even though it was 20 years ago, I remember where I was and what I was doing when I heard the news…it wasn't devastating, but it was hard. I still think of the old coot occasionally, and his name still comes up in conversation…such is the power of Buk (rhymes with Duke).
Bukowski spawned a school of poets who write in a kind of gritty, street-wise style. The Buk persona, Henry Chinaski or just Chinaski, has inspired many a young person to devote their lives to boozing and chasing skirt and being a loud-mouth. They wrongly assume that by emulating the actions of Buk's alter ego, they will be able to write like him…this would be the school of BAD Bukowski poetry & fiction (oh yes, he wrote some great novellas and short story collections).
I have attempted to capture some of the GOOD Bukowski writing out there, beyond the boundaries of Los Angeles, because the Bukowski Legacy has spread world-wide.  Many of the poems I have chosen to include in this collection don't seem to fit the misconception of "Classic Bukowski" (i.e. Boozing, Broads and bad behavior); but the writers employ the strength of the line and don't mince words, an economy of words if you will, and to me, this is the real "Classic Bukowski".
At his core, Buk was a good story teller. Last Call is one man's homage to a man known as the "Underground Poet Laureate of Los Angeles". I hope you enjoy this collection.
Read an excerpt of Last Call
ISBN 9781929878864
152 pages; 6 X 9 Trade Paper
$18 + S&H