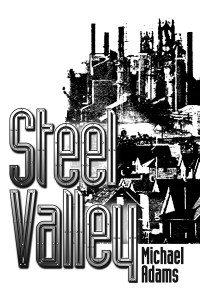 I first heard Mike Adams reading selections from Steel Valley on the Jane Crown Show (pod cast) in 2009. I was so enthralled with what I heard that I called in and offered to publish the manuscript! Thus Steel Valley was born.
John Macker, a respected poet, reviewer and small press publisher (the Desert Shovel Review) wrote this about Steel Valley:
"I love poetry that illuminates the soul's travelogue. You can feel with all senses the steel wheels of Mike Adams' Pennsylvania steel mill and railroad boyhood pulse in every word; his clear, generous breaths open the heart to the wide expanses of the poet writing down his life. These tough, tender-eyed poems and prose pieces are at once blue collar and bohemian, homages to the drinking and the working life juxtaposed against a long poem about cooking green chili. There are disappearing riprap trails and epic family narratives that haunt and exhilarate. It is hard to find a geography worth its weight in memory that doesn't resonate with the blood and spirit of its inhabitants. Mike, like Ed Abbey before him, left behind the Wobbly Joe bars, mills, hills and scarred valleys of Pennsylvania for the boisterous outback of the comparatively wide, wild open West. Steel Valley is fine writing, epic and intimate."  – John macker
Sadly, on Sept. 28, 2013 we lost Mike to Cancer. He was a great man, both as poet and a human being, gentle & wise. He is sorely missed.
Read a sample of Steel Valley here.
Steel Valley
ISBN 978-1-929878-17-8
106 pages, Trade Paperback
$15 + S&H
Please choose appropriate option below when ordering – there are 3 choices, USA, CAN/MEX & WORLD.