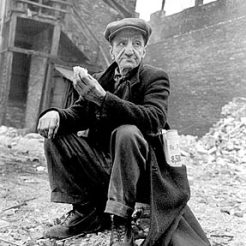 She says to me, "oh, I think that everyone has a choice."
We were talking casually, as if at a cocktail party, about the poor folks who live in downtown's Skid Row. I don't remember what started this conversation but I knew she didn't want any people sleeping in cars on her street or in her neighborhood, for that matter. So whatever I had said to elicit this remark, I knew I was trying to hit a nerve. But her response was devoid of anger and flush with a divine certainty, as if she knew that God was on her side. It made me angry. This woman was…well, let's just say that I hoped she would have developed a broader view of the issue.
Compassion. One hopes for it, tho empathy is even better.
Walk a mile (or two) in my moccasins before you judge me.
How many steps would it take to become a bum?
An addiction – name your poison.
A relationship ending.
A divorce.
A missed car payment.
Depression. Paranoia. Listening to the voices in the walls.
Losing a job.
An eviction notice.
A binge – name your poison.
Listening to the voices in your head. Having a conversation with them.  Believing that everyone can hear the conversations, too.
A mind unhinged.
A squad car. A trip downtown…to Skid Row. Dropped off at 5th and San Pedro St. Wandering through this mess amped up on Adrenalin and fear.
A mugging. Sleeping in a doorway. Feeling useless.
Twelve steps (like AA), can it be so easy?
Thirty-two years ago this month I spent almost a year living on the streets of the South Bay (Redondo Beach, primarily). I had built a camper on the bed of my '54 Chevy 3/4 ton truck and I lived out of that. This was before computers and cell phones, tho if there had been these options back then, I might still be living out of my truck. It was a very spartan life, so much so that it makes my life now seem almost luxurious.
But it's what led up to my "big adventure" that's important for this piece.
My ex and I had split up and I had lost the sweet deal of a place in South Redondo, I knew I'd never find a place like that for the price I was paying. The school I worked at for nine years had closed down. Generally I was depressed (later I was tempted by suicide but never acted on it, tho I did write a humorous poem about a call to the Suicide Hotline — I think it's in book one of Fire and Rain – Selected Poems from 1993 to 2007). So, some solution had to occur. I had a truck already, so it was relatively easy to build something on it. I had the tools and a plan, so I went for it! One thing I have to mention here, the thing that made building a house on a truck seem like a practical solution to my problems…I was an alcoholic. It was my alcoholic self that just knew that this was the solution, plus it opened the door to all sorts of adventure! Huck Finn here I come!
Now, perhaps, if I had been sober I would have come up with a better solution, tho I can't think of what that might have been (it's hard to see that far back in time — I mean we're talking about half of my lifetime here). But I do remember what it was like to go to bed drunk and wake up drunk and that little bit of clarity from say nine to three before I'd find some excuse to open a bottle of beer and light up a cigarette.
It's embarrassing to remember that cycle. To be that out of control…it's a wonder that my gal stayed with me as long as she did. In fact, it's a wonder that I put up with it as long as I did!
I think I knew how ugly I'd become. And knowing that made it easier to assume that no one would take me in, not my family nor any friends that I could think of (half of my friends were high-tailing it to Seattle and I wasn't ready to go that far out on the limb). I wanted to be independent and boy, did I get that.
Now. what kept me from sliding any further over the edge, you ask? Dumb luck. For eight years I had been supplementing my meager salary as a  teacher's aid at a small private school in Manhattan Beach with side jobs as a handyman, jack-of-all-trades. I had a curious mind and liked being able to build things from scratch. So, even tho I floated across the landscape in a 20th century Prairie Schooner, I still had work. My landlady was kind enough to let me use her office phone and answering machine, so clients could reach me. With a job, comes self esteem and with self esteem comes the desire to move up, away from the edge. Also, during this stint I was able to quit drinking which went a long way towards improving my life. That lasted for about 20 years, then I slipped up for 4 and now I'm almost 8 years back on the wagon.
Had I not had work, I would, most likely, have fallen closer to the edge, if not over it (and who knows if I'd ever have embarked down this road in the first place).
RD Armstrong